Livre de bord électronique
BMW 118i E87N
5 portes l'Europe
N46N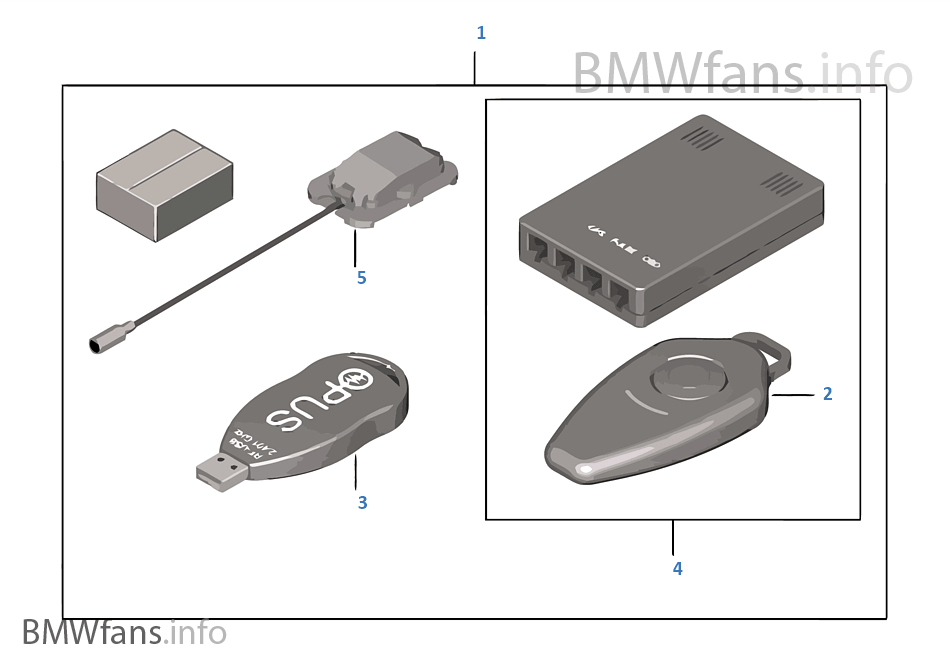 Supplément
Attention : La notice de montage ne fait pas Partie du kit de postéquipement. Imprimer la notice actualisée Sur le portail Aftersales Assistance Portal (ASAP) Et la remettre au client.
#
Description
Partnumber
Supplément
Date d'

Quantité

poids
prix

EUR

Livre de bord électronique

+

Infos

ATTENTION : avant l'achat et la pose,

Signaler au client les remarques sur la

Protection des données (par exemple dans

L'information produit, la notice

D'utilisation)

1

1
Unité mémoire

2

+

Infos

Uniquement nécessaire pour remplacem. :

Der Betrieb von mehreren

Speichereinheiten mit gleicher ID ist

Nicht

Möglich.

Zur Bestellung ist die Angabe der ID-

Nummer (siehe PC-Software) notwendig.

1
Ausleseeinheit

3

1
Kit réparation carnet de route électron.

4

+

Infos

Nur verwendbar mit 0 427 540 und 0 443

086.

1
Antenne Gps

5

Livraison abandonné par l'usine

1
The contents of the BMW parts & accessories catalog provided for acquaintance purposes only.
Part numbers, descriptions, prices and applicability information have been obtained from public sources on the Internet. We are not responsible for any data inconsistency and possible inconvenience caused. Contact your local parts supplier to get precise information about parts.